At CSCCKidz, we believe inside every child lies great potential to influence and make an impact.
THE ADVENTURE AWAITS.
COME AND JOIN US AT CSCCKIDZ!
Subscribe to receive latest updates on CSCCKidz happenings!
Venue:
CSCCKidz Katong (Odeon Katong Level 2)
CSCCKidz Bugis (Bugis Mercure Hotel Level 2)
Check-in Timings: 
Sat | 4.45pm – 5.30pm
Sun 1st | 8.15am – 9.00am
Sun 2nd | 10.00am – 10.45am
Our toddlers learn about Creation through simple Bible stories. As part of their developmental growth, gross motor skills such as jumping, swinging and bending to the rhythm are reinforced through praise action songs and games. Fine motor skills such as colouring and drawing are reinforced during craft sessions.
CSCCKidz Katong Sat 5pm, Sun 10.15am
CSCCKidz Bugis Currently unavailable.
Kindergarten (36 months-6 years old)
Children learn to respond to God's Word by taking simple steps of faith, love and obedience daily through their speech and actions. Each lesson aims to teach them about His nature, character, virtues and truths. They are easy to understand and strive to have every child learn to keep the Word in their hearts from a young age.
CSCCKidz Katong Sat 5pm, Sun 8.30am & 10.15am
CSCCKidz Bugis Sun 10.45am
Primary School (7-12 years old)
We emphasise:
• Growing in prayer and the Word of God
• Growing in godly character
• Grounding in their identity and purpose
• Going forth to fulfil God's purpose in their generation
CSCCKidz Katong Sat 5pm, Sun 8.30am & 10.15am
CSCCKidz Bugis Sun 10.45am
Bridging Ministry (P6 Transitions)
This is a collaboration between our Children's Church and Generations Youth ministry. The monthly Bridging Service covers topics such as identity, overcoming life, friendships, family and inter-generational revival. It serves as a platform to create a positive peer community in which life experiences and skills can be shared. This facilitates a seamless transition of children getting ready for youth ministry.
CSCCKidz Katong Every 2nd week of the month
CSCCKidz Bugis Every 3rd week of the month
Your child is precious, valued and his/her potential is limitless. Special needs is not a behavioural disorder or social limitation. We believe that in the right environment, your child can thrive. Here at JEWELS, we emphasise:
• Deep acceptance and respect for each child
• Socialisation and rapport building with friends
• Strong parent-child connections and bonding
• Empowering you as parents to be your child's best resource
CSCCKidz Katong Sat 5pm
Mustard Seed (Starting from 3 years old)
To nurture children with physical developmental delays, or with mild to moderate intellectual disabilities.
CSCCKidz Katong Currently unavailable.
CSCCKidz Bugis Currently unavailable.
VISITING FOR THE FIRST TIME?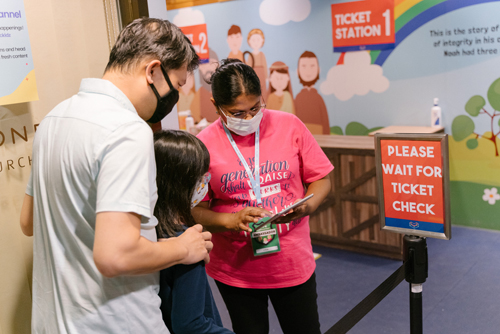 On your first visit, come by the CSCCKidz Check-In Area, also known as the Welcome Booth. When you're at the booth, a volunteer will assist you in getting your kids checked in and feeling at ease.
As part of our security protocol, you'll be asked to provide some details of you and your child. All data will be kept strictly private and confidential.
CSCCKidz Katong: The Odeon Katong, Level 2
CSCCKidz Bugis: Bugis Mercure Hotel, Level 2
FREQUENTLY ASKED
QUESTIONS
FREQUENTLY ASKED QUESTIONS
Can a parent/guardian sit in with the child?

If your child is attending the Kingdom Tots class (for 18-35 months), an adult (either the parent or a guardian) would be required to accompany the child for the class.

For children aged 3 and above, simply drop your children off at the Welcome Booth and pick them up at the end of service. Rest assured that your child is in good hands!

How do I find out the programmes/curriculum of the classes?

Our curriculum is available on our CSCCKidz App, for CSCCKidz members only. If your child is not a CSCCKidz member, you can subscribe to our CSCCKidz Telegram to receive latest updates on our Children's Church happenings. Join us at https://t.me/cscckidz.

When will my child be promoted to the next class?

Children 18-35 months old are promoted developmentally according to their birthdays. Children between 36 months-12 years old are promoted annually in January.

What time does the registration booth open?

Registration opens 15min prior to our service timings and closes 30min after service has started.

Service Timings:
CSCCKidz Katong
Sat 5pm, Sun 8.30am & 10.15am
CSCCKidz Bugis
Sun 10.45am

What is your Child Protection Policy?

We would like to share some of our processes, safeguards and service standards with you, so you too can have peace of mind while your children are under our care. 160 volunteers serve as teachers and helpers for kids from 18 months to 12 years old, at Katong and Bugis. To serve in the Children's Ministry, volunteers are put through a thorough vetting process to ensure that they possess the qualities of working with our team and kids. We also require for them to have attended Cornerstone regularly for at least 2 years and are committed in a cell group for a minimum of 6 months.

1. Preliminary Interview
When a Cornerstone member indicates his/her desire to serve at CSCCKidz, our Children's Church Director first conducts a preliminary interview to ascertain the right fit and suitability of each volunteer.

2. Reference Check
A reference check with the applicant's cell leader will also provide feedback to his/her suitability in the role.

3. Classroom Observation
If found suitable by both the pastor and cell group leader, the potential volunteer will be given the opportunity to understudy in a class setting with other teachers.

4. Ministry Code of Conduct
We ensure that the new volunteer is brought through the Ministry Code of Conduct which has specific stipulations on how his/her conduct with children is to be carried out. This Code of Conduct also includes rules around toilet visits, physical contact and disciplinary approach.

5. Follow-up Meetings
Finally, we will have follow-up meetings with the volunteer and also have them meet their team leaders to ensure that they are cared for pastorally. This process is critical as it helps us ensure that our people maintain a good level of personal, spiritual and relational health.

We are thankful for the dedication and love that our volunteers have for the children, and are also confident in their level of professionalism and capability in working as a team. Thank you for your support and for entrusting us with the privilege of stewarding the young ones!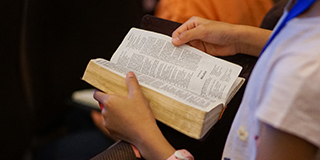 CELL MINISTRY
(HOT CHOCOLATE CLUB)
Children can come together weekly on Friday evenings in various localities for a fun time learning about God and building relationships with one another.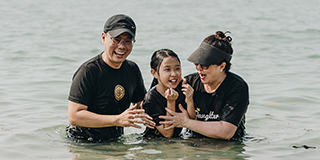 Baptism is a meaningful step of faith for your child. Children planning to get water baptised are required to undergo a 5-week course to prepare them for this meaningful act. To register, sign up here or email baptism@cscc.org.sg.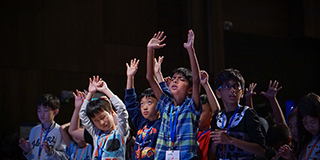 Our annual Kids' Conference is part of our Kingdom Invasion Conferences and takes place during the Nov/Dec school holidays. It is set in an atmosphere of fun, while letting our children come to a place of encounter with Jesus through anointed worship, activating them in the power of God and in the gifts of the Holy Spirit. Visit www.kingdominvasion.sg for more information.